Dubai is one of the modern destinations that is the envy of every tourist globally. Several million people flock to Dubai to fulfil their desires and encounter amazing attractions and experiences. The month of December brings in remarkable festivities of the season clubbed with the Nativity and New Year that make up for a wonderful time in Dubai in December.
The Dubai Desert safari is one of the best indulgences that you can look for indulge, no matter which season or month you land in Dubai. We bring you the best experience and attractions you should witness during your winter vacation in Dubai in December.
Why visit Dubai in December?
Dubai in December is special because of two primary reasons. First, many people flock to Dubai's shores to enjoy Dubai's grandeur and celebrations.
Amazing weather
The mild tropical weather makes Dubai the perfect getaway to experience the sun's warmth and indulge in luxurious activities. The scorching and soaring temperatures go for a toss. The cool weather makes it ideal for fun activities like Desert safari and Sailing.
Exciting festivities of the season
Dubai in December is decked like a Christmas tree, and many gorgeous fireworks on Christmas and New Year's Eve make it a top destination. In addition to Christmas & New Year, the Dubai International Film Festival, the Dubai Shopping Festival, and the Dubai National Day will give you a wonderful look and feel of Dubai in December.
Exciting and amazing things to indulge in Dubai in December
1. Some aqua adventures at the Aquaventure Waterpark
Among the largest waterparks in Dubai, the Aquaventure is popular for its record-breaking slides, rides, and attractions. The most famous is the Zipline across the park, the Leap of Faith, and the Lost Chambers. Also, indulge in marine activities and explore the private beaches and the common children's play areas. No matter your age group, the Aquaventure Waterpark has everything you need to fulfil your aqua desires. 
2. The grand Burj Khalifa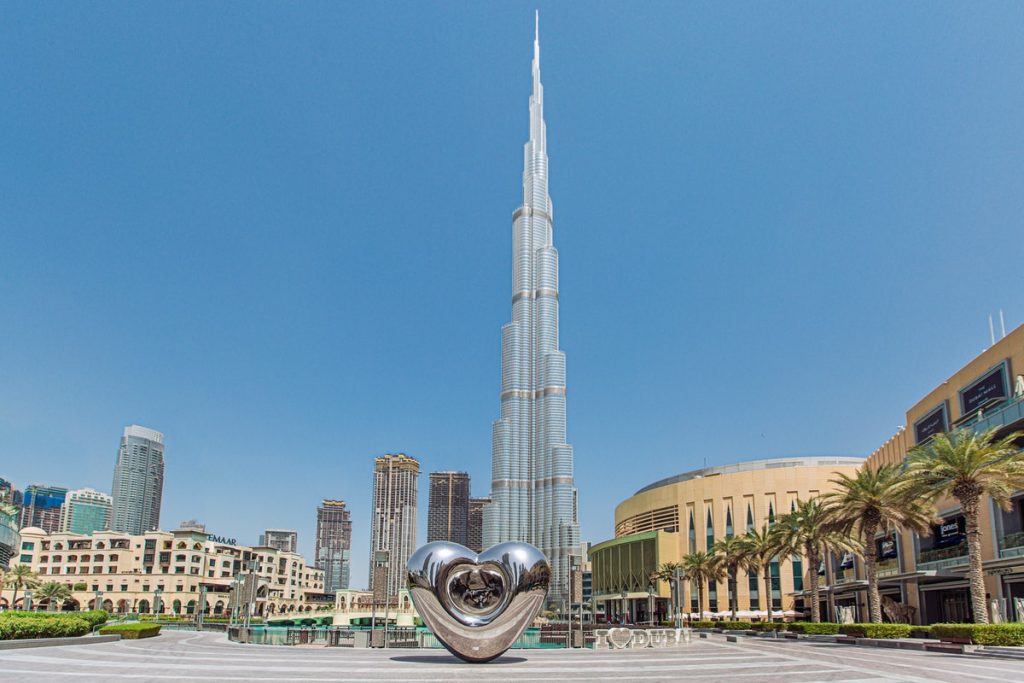 The mighty Burj Khalifa is visible from every corner of Dubai ― such is the towering presence of this mighty skyscraper standing 825 meters above sea level. This engineering marvel provides a fascinating view of the entire cityscape. The 31st December fireworks are even more special as the grand fireworks will take you into another world. People from around the globe come over to witness these grand fireworks LIVE through different corners of Dubai.
3. The charm and elegance of a Desert safari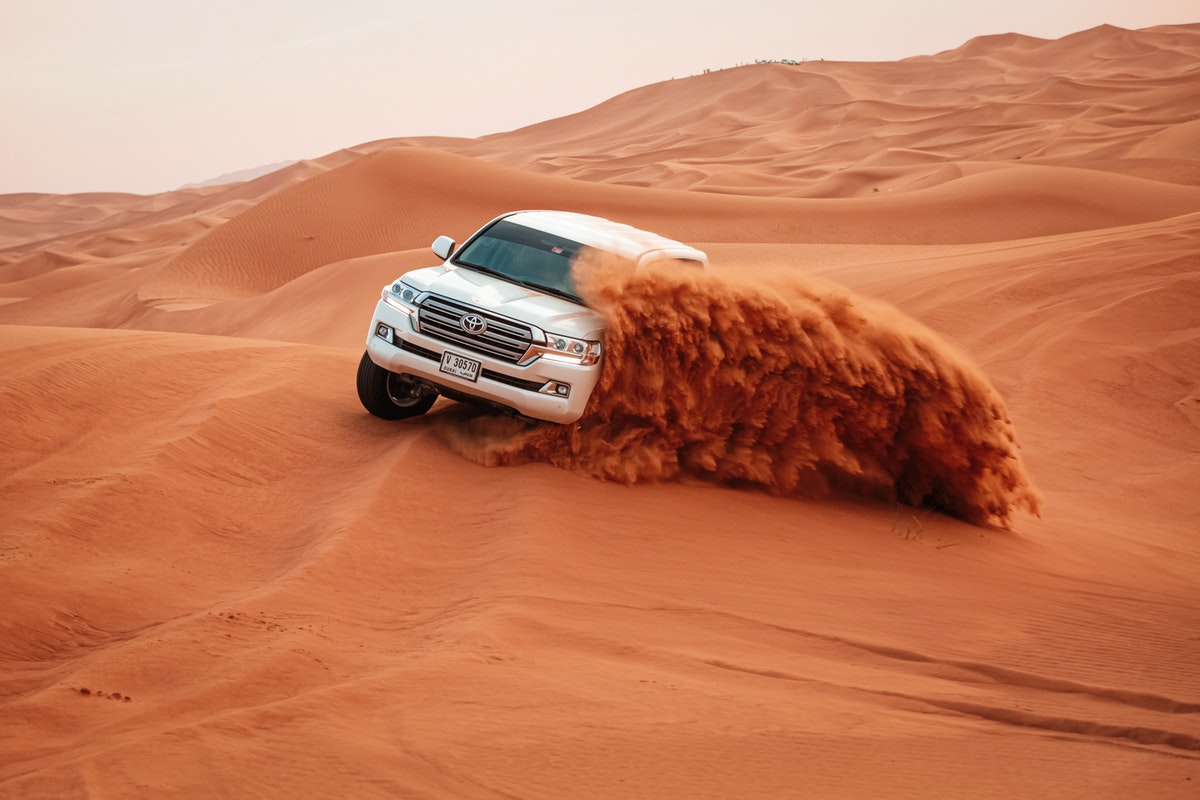 The Desert safari gives you a wonderful essence of Bedouin charm and elegance through a desert tour. Exploring the vast Arabian Desert and settling somewhere in the desert is a different experience altogether. You may not witness such experiences daily in your busy city life. Participate in various desert sports adventures like camel riding, sandboarding, quad bikes, dune bashing, and much more. The Bedouin tent camp gives you authentic barbecue dishes grilled to perfection with a wide culinary spread sufficient to get your gastronomical juices kicking. There are plenty of wonderful indulgences like Falcon & Arabian Attire photography, sunset, hot air balloon (Morning only), applying henna tattoos, and tanoura and belly dance performances to keep you engaged. 
4. The enchanting Dubai Dhow Cruise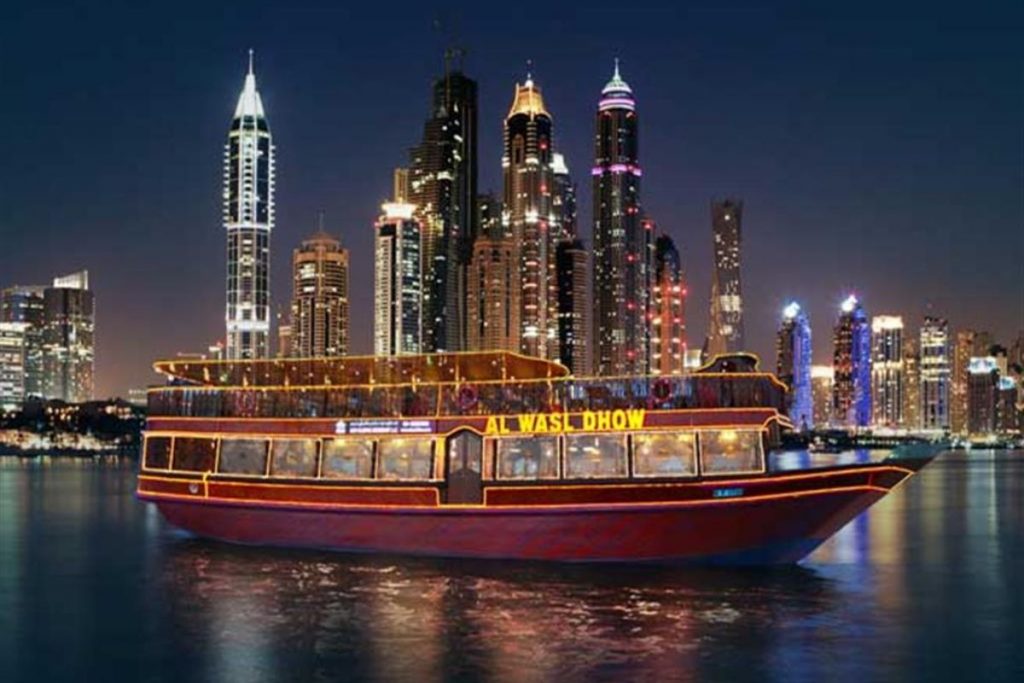 It's time to experience the thrill and glamour of the city via the Dubai shores. The Dhow Cruise lasts about 2 hours and gives you an authentic feel of Dubai hospitality and Bedouin charm. Then, savor the luxurious dinner spread that will tantalize your taste buds. Kicking off from late evening to midnight, experience the grand festivities of Dubai in December through this wonderful cruise.
5. The fabulous Dubai Mall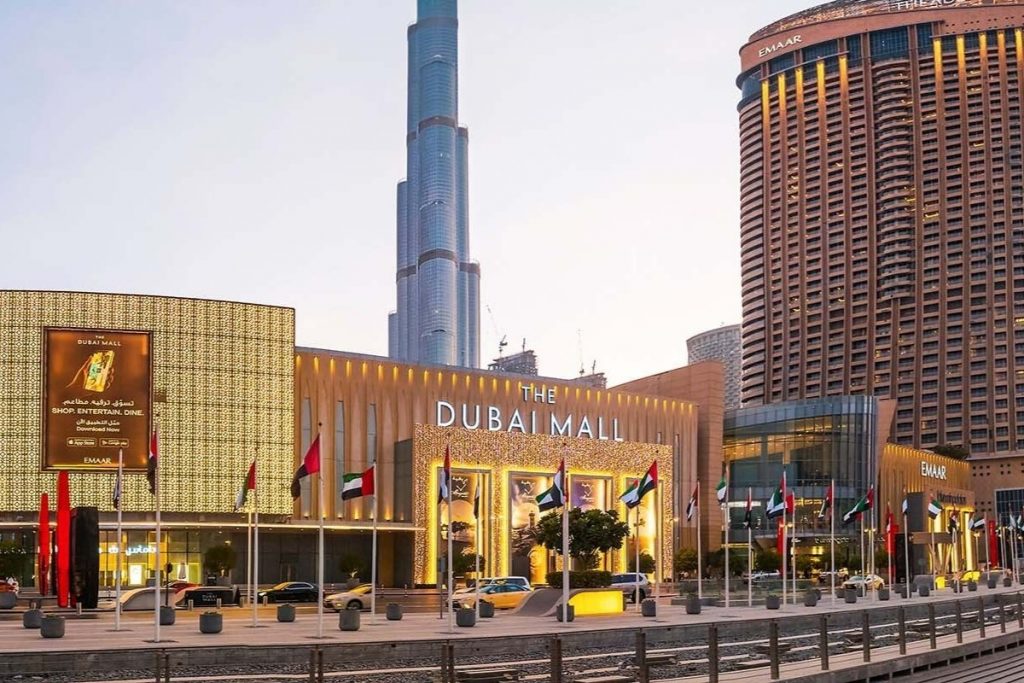 For all the people looking to explore shopping options, you will be surprised at the 1200+ retail outlets available at your disposal within the beautiful Dubai Mall. Placed right adjacent to the Burj Khalifa, you can plan to club both attractions together in one go. You will never get enough of the best-selling brands and amazing variety available at your disposal. The best part is that all your shopping bags can be delivered to your hotel or accommodation at a nominal rate.
6. The mesmerizing La Perle Show
This spell-bounding show, created and designed by legendary Franco Dragone, provides a fascinating experience for the audience. More than sixty performers perform stunning acrobatics and extraordinary feats during the show to captivate the audience. If you are with your little kids, then the La Perle Show is a must-visit destination in Dubai in December.
7. Become a daredevil by indulging in skydiving
Feel the adrenaline rushing through your nerves; skydiving in Dubai is one of the best activities to indulge in. Diving from 14,000 feet before being pulled away by the parachute may make you skip a beat. Various packages and combo deals will give you special activities and the skydiving experience. Book your experience well beforehand, as you may also face a last-minute disappointment.
8. Enjoy the ecstatic Garden Glow
This gorgeous recreational park is decorated with a unique theme for each season, making it a surprise each time you look to explore the Dubai shores. Nearly five hundred artists globally build installations that look magnificently awesome when it glows at night. In addition, all the materials used here are biodegradable and energy efficient, making it an environment-friendly indulgence and exercise. The Garden Glow is open from 4 pm until midnight daily in December.
Amazing events not to be missed in Dubai in December
1. Dubai International Film Festival
Dubai in December brings along important events like Christmas and New Year, but these important events are more like a carnival that will give you a wonderful feeling of being in Dubai in December.
This is a fabulous treat for all the movie buffs. The Dubai International Film Festival screens popular cinemas from different corners of the world across Dubai theatres and open-air screens dotted all over Dubai streets. If you are lucky, you may also witness your favourite International celebrity in town enjoying the season's festivities.
2. Dubai Shopping Festival
One of the key festivals that have opened Dubai's gates to the world and shown its grand presence on the tourist world map. Opened in 1996 to promote tourism in Dubai, today, the Dubai Shopping Festival is a trademark of Dubai. The prices are slashed to almost 90%, and you can witness great deals on clothing, accessories, electronics, jewellery, furniture, textile, food, toys, and much more. You also get rewarded for the shopping experience you indulge in. It can't get more grandeur than this in Dubai. 
3. National Day
Come 2nd December each year, the festivities and celebrations of UAE's national day continue as a week-long carnival, where you can witness fascinating fireworks, car parades, and wonderful indulgences to enlighten all moods. In addition, a stunning portrait silhouette of the late Sheikh Zayed Bin Sultan Al Nahyan is decorated with 400+ national flags and installed on the Kite Beach, which is beautiful to witness live.
---
Follow and connect with us on Facebook, Twitter, Linkedin, Instagram and Google News for the latest travel news and updates!
---
---
Follow and connect with us on Facebook, Twitter, Linkedin, Instagram and Google News for the latest travel news and updates!
---