Kalpesh Bundele, skating evangelist and inline downhill national champion, leads a busy, connected life which he wants to make the most of. His choice of car? The Maruti Suzuki Celerio.
Published On Jan 10, 2023 07:19:00 PM
Radiant grille with sharp chrome accents gives Celerio a cheerful face.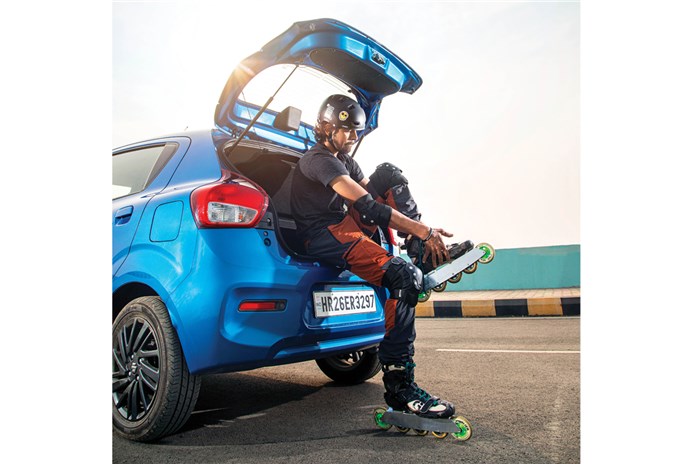 The Celerio's commodious 313-litre boot helps Bundele carry his life with him.
First things first. The Maruti Suzuki Celerio has always had a massive fan following across India, and that only increased with the launch of the new Celerio in late 2021. It is especially popular with the young and the trendy, both in the metros and in smaller cities. The reasons are not hard to find. The Celerio is tech-forward, sprightly and very contemporary. It is also the country's most fuel-efficient petrol car.
These are among the reasons why Kalpesh Bundele loves it. Bundele, 29, is the best inline downhill skater in the country. About four years ago, he decided to give up his corporate job and plunge full-time into something he had aspired to do for long: to share the joy of skating with the masses. Bundele is always on the move, even when he is not skating. His days, which involve training for tournaments, and teaching skating to both kids and adults, are hectic, and he wanted a car that could match his energy and fit his frenetic, fast-paced life. Enter the Maruti Suzuki Celerio.
Inside-Outside 
The first couple of things you notice about the new Celerio is that it's got great road presence. And that 3D Organic Sculpted design, which gets everyone's eye. It did Bundele's, too. He especially loves the curved and sweptback headlamps, and the radiant grille with sharp chrome accents that give the Celerio a cheerful face. The peppy headlamps are complemented by striking, blacked-out 15-inch alloys and droplet-styled tail-lamps. The new Celerio, which is built on the modular Heartect platform, is not just about proportions and fluid lines. Thanks to a large wheelbase – 2,435mm – it delivers a lot more space on the inside.
A slick 7.0-inch touchscreen handles infotainment duties in the Celerio.
The Celerio's cabin matches its exterior verve, and Bundele, who is fairly tall, at 5ft 10in, feels instantly at ease the moment he gets into the car. With its all-black interiors, the Celerio exudes a contemporary vibe. The dashboard gets a smart winged look and there's a 7.0-inch touchscreen that runs Maruti Suzuki's slick and intuitive SmartPlay interface and is equipped with Apple CarPlay and Android Auto. Bundele finds the seats firm but very comfortable, and he loves the fact that they can be adjusted for height. Other things the music-loving Bundele digs about the Celerio? Steering-mounted audio controls, push-button start, and keyless entry. "I like the way everything I need is right around me and it's a lot more spacious than I thought it would be. I see myself spending a lot of time in the car," said Bundele, who travels across Mumbai almost daily.
Let's roll 
Inline skating is a lot more varied than you think. There's freestyle skating, speed skating, off-road skating (yes – with special wheels!), fitness skating, and downhill skating. Besides being the national champ for inline downhill skating, Bundele is also a freestyle skater, which features intricate footwork, spins, and jumps. But, irrespective of the type of skating, it all boils down to rhythm and agility. That's something, Bundele says, the Celerio possesses in abundance. The primary reason for that is the car's next-generation K10C Dual Jet, Dual VVT engine.
 A slick-shifting 5-speed manual gearbox enhances fun of the drive.
The 'Dual Jet' in the name stands for the two injectors each cylinder is equipped with, and an injector for each intake port translates into a better mix of fuel and air and higher efficiency. When you combine that with the Celerio's first-in-segment Idle Start Stop technology, you get sterling fuel-efficiency figures. The Maruti Suzuki Celerio ZXI MT, Bundele's choice of car, has been rated with an economy figure of 24.97kpl, while the VXI AMT, which features Maruti Suzuki's Auto Gear Shift automatic transmission tech, delivers as much as 26.68kpl. Bundele is clearly impressed by the figures, but he is also equally taken in by the way the Celerio drives.
The Celerio delivers a sense of freedom that is akin to skating, says Bundele.
He finds it to be a fun, nimble car. "I can squeeze it into and out of traffic, and it's got just the right amount of power for big cities such as Mumbai," said Bundele. The Celerio's 67hp engine exhibits a seamless build-up of power from the lower reaches of the rev band and you don't really feel the need to work that 5-speed gearbox in town. The fact that the gearbox is allied to a light clutch only enhances the pleasure of the drive. Power delivery is smooth and the Idle Start Stop technology is fuss-free and well integrated. The Celerio is an able performer on the highway as well, and can maintain highway speeds with great composure. "I mostly drive in the city, in low-speed settings, and the Celerio is just attuned to the demands of an urban environment. Of course, it goes where I want it to go but I also love the fact that it's so easy to park," says Bundele.
Safe and sure 
Each time he participates in an inline downhill skating tournament or trains for one, Bundele is particular about having safety covered. After all, he touches speeds of 90kph on skates at tournaments. A top-notch inline downhill skater's gear includes a helmet, hip-pads, knee pads, slide gloves, and spine protectors, among others. Naturally, when it comes to the car he drives, Bundele is equally particular about its safety aspects and was happy to note that the Celerio ZXI MT delivers uncompromised safety. It gets dual front airbags, ABS, front seatbelt reminders, and rear parking sensors as standard. (The AMT versions get a first-in-segment Hill Hold Assist as well.) "I have a take-no-chances philosophy when I am competing. Why should it be any different when I'm driving?" says Bundele.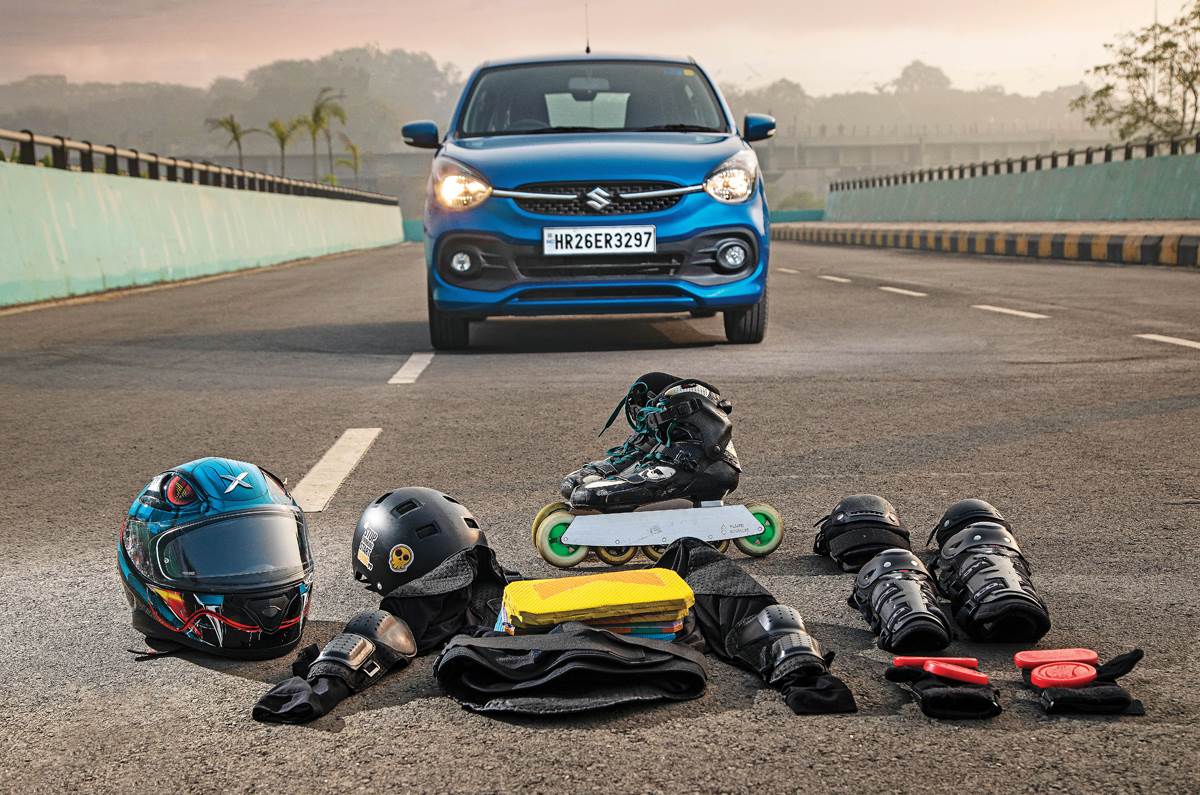 Bundele is particular about safety, whether on skates, or on four wheels. And with dual front airbags, ABS, and rear parking sensors as standard, the Celerio has got safety covered.
To millennials such as Bundele, the Celerio makes perfect sense. It's got a refined Maruti Suzuki engine, more than enough space to carry their life along, is studded with technology, and is inherently safe. It also helps him live his life to the fullest, he says. "Skating sets me free, so does the Celerio," says Bundele.
Also See:
Branded Content: High life with the all-new XL6
Copyright (c) Autocar India. All rights reserved.