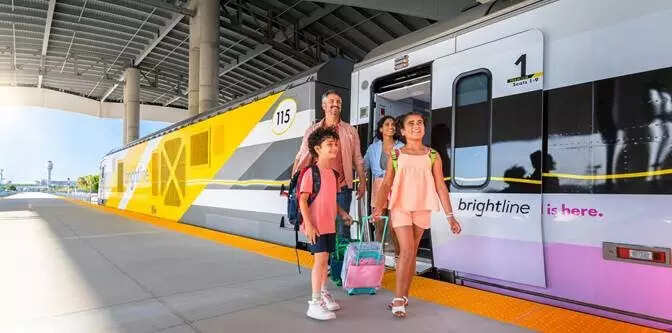 Brightline, the eco-friendly, intercity rail provider in America, has announced a service to Orlando International Airport, starting September 22. The service will connect Orlando and South Florida, covering Miami, Aventura, Fort Lauderdale, Boca Raton and West Palm Beach. "Opening Orlando fulfills our ultimate business model. We have seen incredible enthusiasm from the business and tourism industries eager to travel between Central and South Florida," shared Patrick Goddard, president of Brightline. "As we start service to Orlando for peak holiday seasons, I encourage everyone to check calendars, make plans, visit our website or app and reserve a seat now," said Goddard.
To promote the service, Brightline is offering one-way Smart fares starting at USD 79 for adults and USD 39 for children for a limited period of time. According to Brightline, groups of four and above will automatically save an additional 25 percent on Smart fares.
The Smart service, shared Brightline, offers a comfortable business-class option onboard in hand-stitched leather seats, complimentary Starlink WiFi, multiple power and USB outlets and an array of food and beverages available for purchase.One-way Premium fares start at USD 149, a first class experience with added amenities including a dedicated Premium lounge, priority boarding, checked luggage, and complimentary snacks and beverages throughout the journey, the company shared.
Corporate riders can check out the company's dedicated portal for companies – Brightline for Business – to save with fixed rate rides designed for company needs. Additionally, starting this fall, students with eligible email domains can receive up to 25 percent off Smart rides after creating a Brightline account using an active college or university email, Brightline said. Brightline expects to offer commissionable fares in the near future, and to be bookable on GDS by the end of 2023.