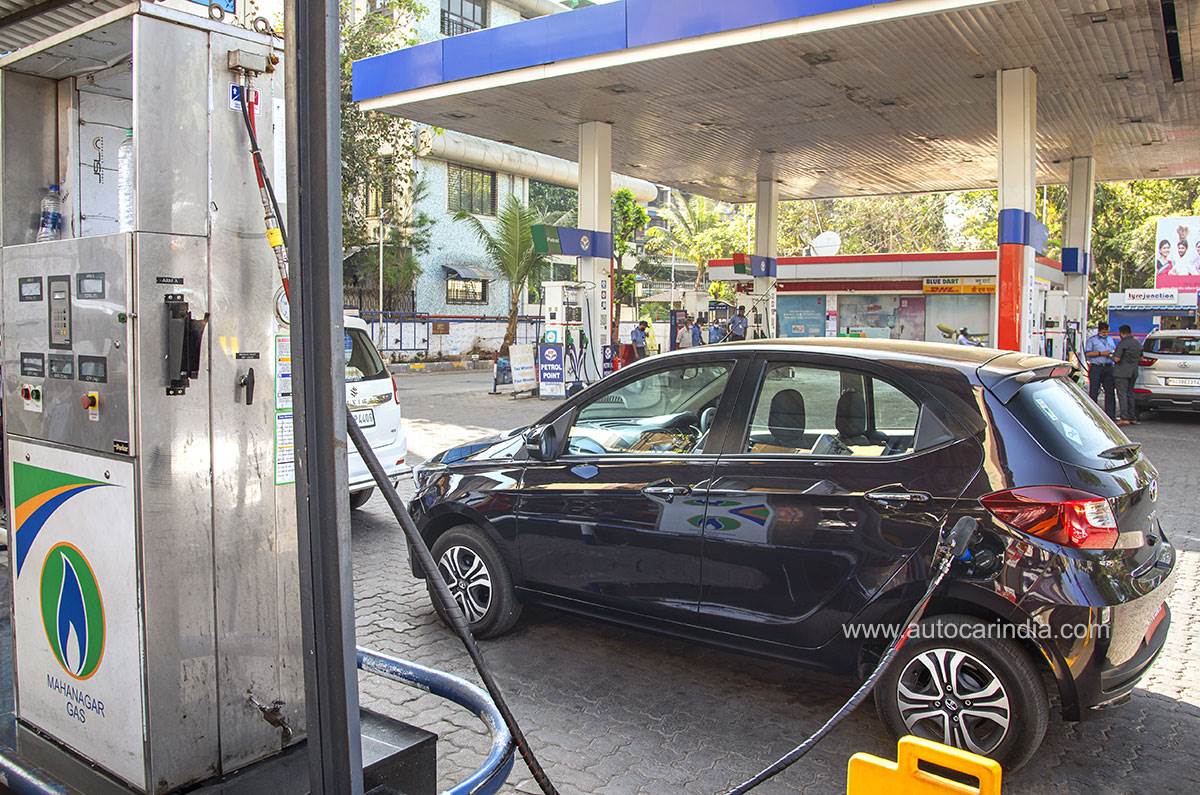 CNG prices in Mumbai have risen by 81 percent in the last 21 months.
The continuing increase of global natural gas prices means that CNG prices in India are also continuing to rise. CNG prices in Mumbai have been hiked again, this time by Rs 3.5 per kg, and at Rs 89.50 per kg, they have hit a record high. There have been just two price reductions this year – by Rs 6 per kg on both occasion – with the last one being on August 17.
CNG Price rise by 81 percent in 21 months (Mumbai)
Month
Price per kg
November 5, 2022
Rs 89.50
October 5, 2022
Rs 86
August 3, 2022
Rs 86
July 13, 2022
Rs 80
April 30, 2022
Rs 76
April 12, 2022
Rs 72
April 5, 2022
Rs 67
January 8, 2022
Rs 66
December 17, 2022
Rs 63.50
November 27, 2022
Rs 61.50
October 7, 2021
Rs 57.54
July 13, 2021
Rs 51.98
February 8, 2021
Rs 49.40
CNG price reduction in CY2022
August 17, 2022 (by Rs 6 per kg)
Rs 80
April 1, 2022 (by Rs 6 per kg)
Rs 60
Over the 21 months, from February 8, 2021 through November 4, 2022, CNG prices in Mumbai have risen by 81 percent – from Rs 49.40 per kg to Rs 89.50 per kg. That's a rise of Rs 40.10 per kg of CNG, which seriously hampers the low-cost-of-ownership mantra that CNG vehicles offer and is something that manufacturers bank on.
Meanwhile, oil is also on the boil again and crude oil prices have risen to their highest levels in nearly four weeks.
Price difference between CNG and petrol/diesel has reduced sharply
Until now, lower runnings costs of CNG vehicles have always been a compelling reason for buyers to choose them over their petrol or diesel counterparts.
As of November 5, the price of petrol in Mumbai is Rs 106.29 a litre and diesel is Rs 94.25 a litre. The price of both fuels have remained unchanged since May 21, 2022. At Rs 89.50 per kg, the price differential versus petrol has reduced below Rs 20 for the first time to Rs 16.79, while against diesel it is Rs 4.75.
Twenty-one months ago, on February 8, 2021, the price differential between CNG and petrol was Rs 44.09, given the then CNG price of Rs 49.40 per kg and Rs 93.49 for a litre of petrol in Mumbai. That price difference is now half of what it was then. 
However, if one takes into account CNG's inherently higher fuel efficiency, which is 1.5 times that of petrol, it still offers increased savings. Now, with the price differential coming down fast, the lower cost of ownership of CNG vehicles is also coming under the scanner.
Rising prices could impact CNG cars
Thanks to the rising prices of petrol and diesel, sales of CNG-powered cars have been on the rise over the past few years, with car manufacturers like Maruti Suzuki, Hyundai and Tata expanding their CNG portfolio.
In FY2022 (April 2021 to March 2022), the passenger vehicle segment saw CNG-powered sales clock near 55 percent  growth over last year with sales of 265,383 units.However, that growth rate is now slowing down with the consistent price hikes in CNG. Nevertheless, some manufacturers remain positive on CNG.
Will rising CNG prices drive consumers towards EVs?
It is difficult to say whether the CNG prices will keep rising given the strong demand for the fuel in India. However, the fact remains that the running costs are significantly lower compared to petrol or diesel, and CNG cars inherently give better fuel economy. 
There are some challenges with CNG though. Refuelling takes longer due to fewer CNG stations, and highway driving requires additional planning in terms of trying to take a route with a CNG station. One must also bear in mind that servicing costs of CNG-powered cars are higher compared to petrol cars as the CNG filter requires scheduled replacement in factory-fitted CNG kits.
Car buyers now have another option – electric vehicles – and although the initial cost of an EV is higher than a CNG or petrol/diesel model, the lower running costs in the long run make it very attractive. With central and state governments offering a host of subsidies, it is likely the CNG sector's loss could be the EV segment's gain.
Also see:
2022 Tata Tiago CNG review, test drive