Germany is a leading European country well known for its excellent job opportunities and high standard of living. Germany has introduced a job seeker visa in order to attract skilled professionals from all over the world.
This visa allows individuals to search for jobs in the country, and if they find a suitable job, they can convert their visa into a work visa.
In this article, you will find comprehensive information on the eligibility criteria, qualification requirements, and application process for Germany's Job Seeker Visa, including details on fees and financial requirements.
Additionally, you'll learn how to transition from a Job Seeker Visa to a Work Visa or an EU Blue Card, how to settle in Germany, and the process for obtaining citizenship.
Germany Job Seeker Visa
A German job seeker visa is a work visa granted to anyone who meets the requirements and wishes to work in Germany. If you are granted this visa, you will be able to stay in the country for several months—usually six—to look for work before applying for a work permit and staying in Germany long-term.
Qualification Requirements for Germany Job Seeker Visa
The Germany job seeker visa is granted to individuals who have at least five years of work experience, a degree recognized in Germany, proof of funds to support their stay in the country and other necessary documents.
If granted, the applicant can stay in Germany for up to six months to search for a job. During their stay on a job seeker visa, they are prohibited from working.
Eligibility for Germany's Job Seeker Visa:
Completion of academic or vocational training
Five years of work experience
Financial means to support oneself during their stay in Germany
Possession of a degree recognized in Germany
Requirements for Germany's Job Seeker Visa:
Completed visa application form
Proof of accommodation, financial support, academic degree, and health insurance
A valid passport and its copy
Two passport-sized photographs
Resume and cover letter
Application fee of €75 or ₹6,351.50 (For Indians)
Minimum bank balance of €5,682 or ₹4.8 lakh
Application Process for Germany Job Seeker Visa
The application process for a job seeker visa in Germany involves submitting an application, proof of accommodation, funds, academic qualifications, experience, and health insurance, a valid passport, a resume, and a cover letter.
Interested applicants can visit the official website for more details.
From Germany Job Seeker Visa to Work Visa or EU Blue Card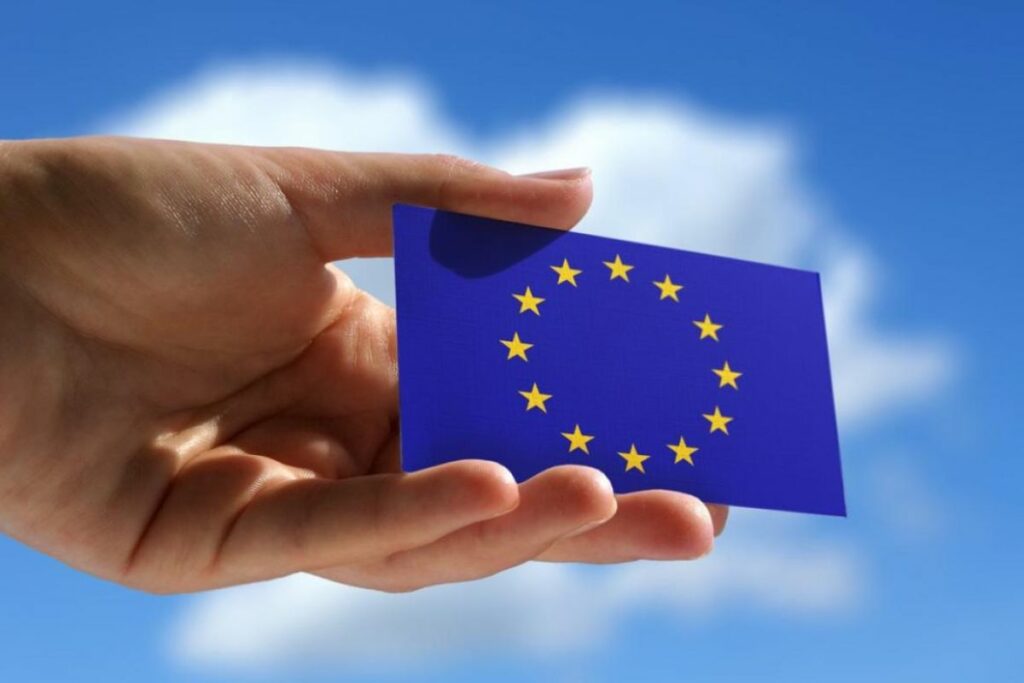 Applicants who find work in Germany can apply for either a work visa or an EU Blue Card. To obtain a work visa, the applicant must have a job offer from a German employer.
If the applicant is over the age of 45, the annual salary for the position must be at least 48180 Euros, or they must provide proof of adequate old-age pension provisions. Work visa holders may stay in Germany for up to four years or the duration of their employment contract, whichever is shorter.
In the case of an EU Blue Card, applicants must not only find work in Germany but also ensure that their annual gross salary is at least 58400 Euros.
Employees in the fields of mathematics, information technology, natural sciences, engineering, and human medicine, on the other hand, must earn at least 45552 euros per year. Applicants with an EU Blue Card can bring their families to Germany.
Settlement in Germany
Applicants can apply for a settlement permit after 33 months of holding an EU Blue Card. It may be issued after 21 months of residence in Germany in some cases. In the case of a job visa, applicants can apply for a settlement permit after holding a residence permit for at least four years and passing the 'Life in Germany' test.
A Permanent EU Residence Permit is granted to people who have legally lived in Germany for at least five years, have a good command of the German language, and have a basic understanding of the German legal and social systems and way of life.
German Citizenship and EU Citizenship
Germany Citizenship is granted to holders of a settlement permit who have been legally residing in Germany for at least eight years.
Aside from that, individuals with a limited residence permit that can be converted to indefinite residence who have been legally residing in Germany for at least eight years are also eligible for German citizenship.
They must have sufficient knowledge of the German language in addition to the residency requirements. After being naturalised, applicants must give up their previous nationality.
Because Germany is one of the 27 European countries, German citizens automatically become EU citizens. EU citizens are free to move and reside within the EU.
Bottomline
The Germany job seeker visa is an excellent opportunity for skilled professionals who want to explore job opportunities in Europe. With excellent work conditions, high living standards, and a pathway to settlement, Germany is an ideal destination for skilled professionals from around the world.
---
Follow and connect with us on Facebook, Twitter, Linkedin, Instagram and Google News for the latest travel news and updates!
---