The Consulate General of Italy in Mumbai, India on Monday shared an important update for study visa applicants and said that the processing time for Student visas has increased and can take up to 90 Days.
VFS Global, the company which processes and issues Italy visa applications in India has also shared an update regarding the processing time and said, "The average processing time for long-term Italian study visa applications is 45-60 days. However, in view of the high volume of applications and in compliance with the Italian official directions in force, the same can take up to 90 days."
In a recent update, VFS Global reminded all applicants that the deadline for submitting a long-term study visa application for this year is November 30th, 2022.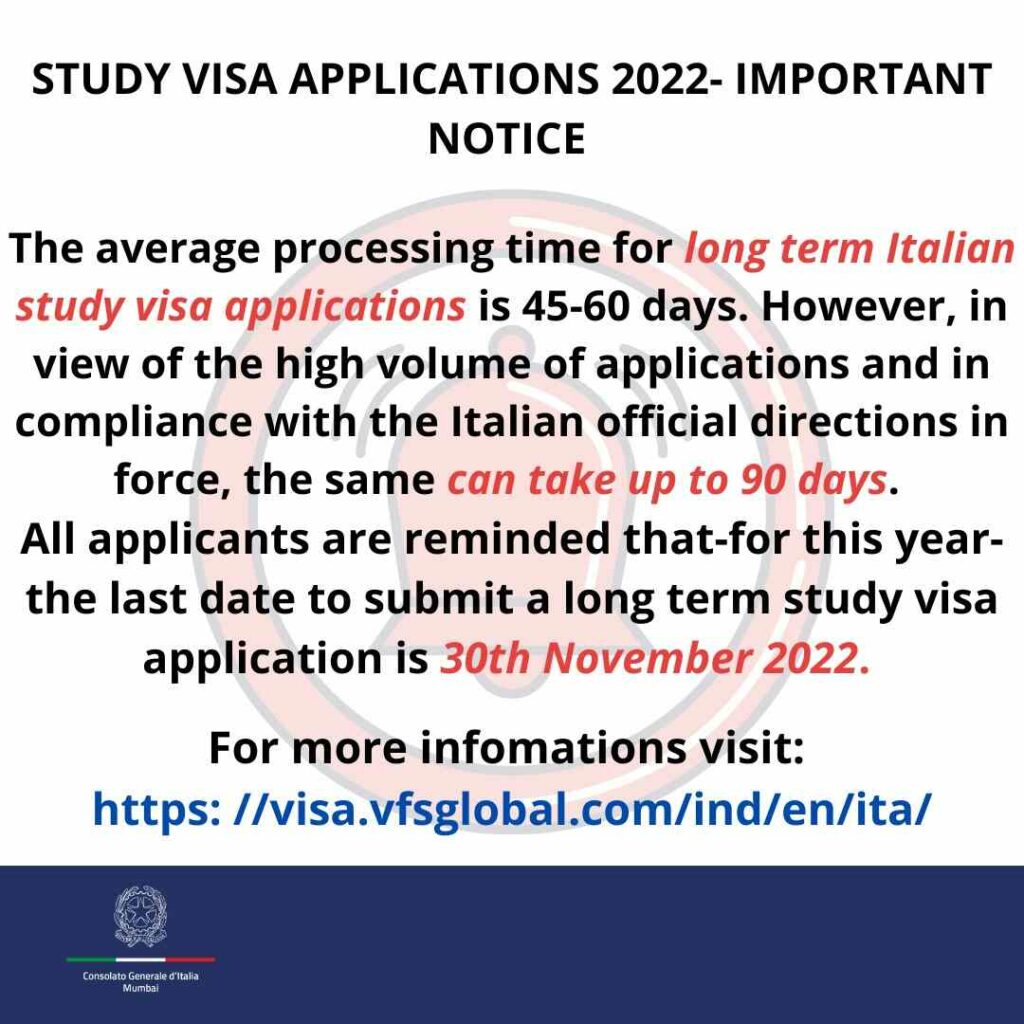 Also Read: VFS Global Issues Update For Italy Visa Applicants In India
Italy: Student Visas & Permits
Students from the European Union (EU) or EFTA countries can enter Italy with a valid passport or EU ID card and stay for the duration of their studies without a visa.
However, if their study programme is longer than three months, EU students must register at their local Questura station (police station) upon arrival in order to obtain a residence permit.
If you are a non-EU student, you must obtain a student visa before entering Italy. Use the information below to get started on your Italian student visa application!
Visas for Non-EU Students
There are two types of student visas in Italy, depending on the duration of the study program:
Visa type C: Short-stay visa or travel visa valid for one or more entries and for a period not exceeding 90 days
Visa type D: Long-stay visa valid for more than 90 days
Required Documents for Italian Student Visa
As part of their application for a student visa to study in Italy, students may be required to present any or all of the following documents:
A valid passport, with at least two blank visa pages and valid for at least three months after the expected end date of your study program.
A letter of acceptance from your institution in Italy.
A completed visa application form;
A copy of your itinerary to and from Italy,
Proof of no criminal record;
Proof of language proficiency in Italian or English (depending on the language of your study program);
Proof of adequate financial means to support yourself (between €450 and €515 monthly);
Proof of adequate accommodation in Italy;
Proof of adequate medical insurance; and
Proof you've paid the associated application fee.
---
Follow and connect with us on Facebook, Twitter, Linkedin, Instagram and Google News for the latest travel news and updates!
---